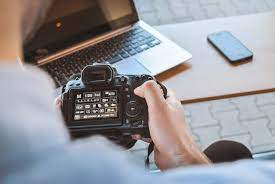 As a photographer, you likely already know the importance of marketing your business online. And while there are many different ways to promote your photography services, using SEO services is one of the most effective. SEO, or search engine optimization, is a process of optimizing your website and content to rank higher in search engine results pages. This means that when people search for keywords related to your photography business, your website will appear higher in the results, making it more likely that they'll click through to your site. There are a number of different SEO services that you can use to help improve your website's ranking.
Optimize Your Website Content:
One of the most important things you can do to improve your website's ranking is to optimize your content. This means creating content that is relevant to the keywords you want to rank for, and using those keywords throughout your content in a way that is natural and not forced.
Improve Your Website's User Experience:
Another important ranking factor is your website's user experience. This refers to how easy it is for visitors to use your website and find the information they're looking for. There are a number of things you can do to improve your website's user experience, including making sure your navigation is easy to understand and use, your website loads quickly, and your content is easy to read.
Build Links to Your Website:
One of the most important ranking factors in SEO for photographers is the number of links pointing to your website. Links are essentially votes from other websites, and the more links you have, the higher your website will rank.
Use Google My Business:
Google My Business is a free listing service from Google that allows you to list your business in the search engine's local business directory. This is a great way to improve your ranking in local search results.
Optimize Your Images:
In addition to optimizing your website content, you should also optimize your images. This means adding keywords to your image file names and alt text so that your images will appear in Google Image search results.
Promote Your Website on Social Media:
Another great way to improve your website's ranking is to promote it on social media. This can be done by sharing your website's content on your social media channels, and by adding social media buttons to your website.
Use Google Analytics:
Google Analytics is a free tracking tool from Google that allows you to track the number of visitors to your website, where they came from, and what they did on your site. This information can be very valuable in helping you to improve your website's ranking.
Hire an SEO Specialist:
If you're not familiar with SEO or don't have the time to implement these strategies yourself, you can always hire an SEO specialist to help you. An SEO specialist will have the knowledge and experience to help you improve your website's ranking and get more traffic.
Conclusion:
SEO services for photographers can be a great way to attract more clients and grow your business. By using the right keywords and phrases, you can improve your visibility in search engines and attract more customers.